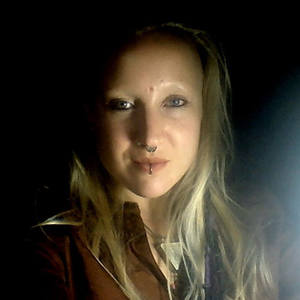 Ambra Nanut Artist artworks for sale
Rated

4.5

/

5.0

by

31

clients as

the best artist
Artist: Ambra Nanut
Live in:
Artworks for sale: 39.00
Views:
3230

Favorite:
118

Show all Ambra Nanut Artworks
on Saatchi Art

Ambra Nanut Artist Bio:
This is part of a constant process of Self unfolding and healing. It is about gradually experiencing my own unconscious and coming into contact with the unknown within, while at the same time finding out and defining how this encounter happens and the direction it takes, its meaning and purpose for my life in its totality. I get to the roots of my emotions, and than follow from there... Painting emerges from some kind of inextinguishable life force I feel bound to, and it is very much about embracing life and love to the full. Of this Love I experience the primal, almost survivalist core, the dark demands, its death-like pain, as much as its supportive guidance, its erotic force and the deeply blissful, nearly ecstatic condition that comes with it. While involved into creative activity, a dialogue among parts takes place, parts which are bound to work together again as a whole after a long period of dispersion and fragmentation. Such a bound is the result of their own pull towards existence, as it emerges from the inside, as it manifests in the outside. Each of these separate identity facets now creatively reconnecting, brings about its own heritage and resources. They are not meant to be assimilated or synthesized, but rather fully represented, further explored and developed, expressed and integrated without a loss of detail, diversity or specificity. I see inner experience as something to be embodied and materialized, and through painting I work on bringing a very powerful and rather primal type of material to such a point where it can meet with outer life in a balanced way, while at the same time enriching it, improving it, injecting it with energy. Such a balance comes from the full spectrum involvement of who I am, including all the areas of my being, also the most remote, unintelligible, obscure, alienating and transpersonal ones. The work I do encompasses a variety of dimensions, from chthonicity to cosmicity, it delves into nearly microscopic organic levels while also maintaining a big scale relational perspective, it refers to both time and timelesness, chaos and structure...without dichotomies. Through art I have restored my relationship with the psychological, the spiritual and the occult to its child-like state of purity and spontaneity, of being rather than knowing, while at the same time operating on the base of a mature and well developed life experience, with its own wisdom and conscious orientation. In these terms, art has become a very serious and extremely vital way of playing, a play fully integrated into life as a whole and naturally flowing with it, enriching it, enhancing it.