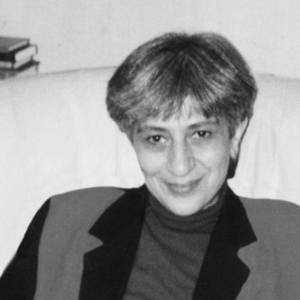 Anait Abramian Artist artworks for sale
Rated

4.5

/

5.0

by

34

clients as

the best artist
Artist: Anait Abramian
Live in: Westmount 80 av, Hillside #303, QC, Canada
Artworks for sale: 45.00
Views:
1309

Favorite:
108

Show all Anait Abramian Artworks
on Saatchi Art

Anait Abramian Artist Bio:
Anaït Abramian is an artist for whom the world is an endless source of wonder. Through a playful sense of staging , she seeks to lead us to reflect on the profound realities of our world. She unfolds extraordinary visions of the universe, by seducing us with her rich palette of harmonious colours, and by providing us with the tools for exploring our humanity. She guides us on the multiple roads of life and their innumerable meanderings. Anaït's work is deeply marked by her overflowing imagination, as well as her vast knowledge continuously fueled by her heightened intellectual curiosity. Her art reveals her confident mastery of space, where one simultaneously observes the dynamics of static movement and the ploys of perspective. She represents the singularity of the world and of time by multivalent prospects. She explores different techniques, including painting, engraving, and monotyping. She has exhibited her works around the world, and they are today part of private and public collections. Anaït is a native of Armenia. She graduated from the Panos Terlemezian Fine Arts College of Yerevan, as well as from the The Saint Petersburg State Art and Industry Academy, Alexander von Stieglitz, Russia. She lives and works in Montreal for several years.