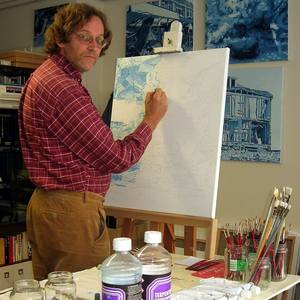 Anne Vincent Dijkstra Artist artworks for sale
Rated

4.5

/

5.0

by

78

clients as

the best artist
Artist: Anne Vincent Dijkstra
Live in: Etten-Leur, Noord-Brabant, Netherlands
Artworks for sale: 35.00
Views:
1594

Favorite:
115

Show all Anne Vincent Dijkstra Artworks
on Saatchi Art

Anne Vincent Dijkstra Artist Bio:
I am working as a professional artist since 1991. I've 'participated in many exhibitions over the years, mainly in Holland. From july 23th to september 3rd 2016 my work will be shown at the SBK Gallery in Breda, Netherlands (http://www.sbk.nl/index.php?r=site/page&view=expositie&id=174), together with that of Femke Dekkers and Ruth de Vos. For some years now I am creating paintings that are painted by using graduations of only one color: Prussian blue (mixed with titanium white). Based on these two I make all the tones from deep dark blue to almost white. This self-imposed restriction is aimed at the coherence of different shapes within a painting and also to give the work a less anecdotal and more monumental character. Within this limitation of color I paint a baroque profusion of spots on the canvas, that take on the form of collapsed houses, aircraft wrecks, radiographs, etc. My idea when painting is to proceed slowly and controlled, leaving a clear trace of paint that looks like congealed matter. The line that runs from one to the other painting is an interest in the cohesion of matter on any scale For my work I use pictures that I project and trace with a pencil on canvas. This results to no more than signs, because line and spaciousness are two incompatible quantities. After this initial setup, I work out forms, starting with the clearest outlines. From one to the next, I fill the canvas with spots of different brightness. The often extremely vague light-dark transitions are at odds with the actual tone of the paint that seeks clear outlines. Although I use photos, I do not consider myself to be a photo realist, because I am much more interested in the chaos of abstract shapes that impose themselves and that I translate as paint stains that (first of all) refer to nothing but themselves. The sudden leaping forward of recognizable elements (an airplane, a bicycle, a piano, a bone) refute the abstraction less than they confirm it. What interests me is the shattered image; a cubist painting or a photograph of a mess clarify the same thing namely that figuration is no more than a degree of recognizability. The stains I paint come together to form a recognizable image in the eye of the beholder, while fragmentation lies at the basis of their genesis. I have been influenced by painters such as Caspar David Friedrich, Lucian Freud, Wilhelm Sasnal, Luc Tuymans (whom I've met once at the Rijksacademie in Amsterdam) and Gerhard Richter. I like paintings to be straightforward, because I think the viewer should not be distracted too much of what, to my mind, paintings are mainly about: paint and canvas.