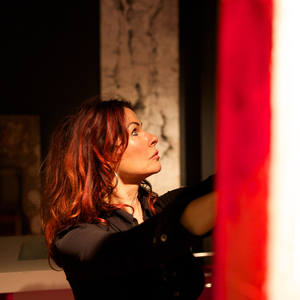 Christa Dohmen Artist artworks for sale
Rated

4.5

/

5.0

by

92

clients as

the best artist
Artist: Christa Dohmen
Live in: Tilburg, Noord Brabant, Netherlands
Artworks for sale: 11.00
Views:
3591

Favorite:
157

Show all Christa Dohmen Artworks
on Saatchi Art

Christa Dohmen Artist Bio:
In the delicate area between the earthly, framed 'being-a-human' and the enveloping universe, lives the work of Christa Dohmen She is searching out the borders of life, staying true to the inner road, taking the shortest route but certainly not always the easiest one. Alternating between evocative abstract-figurative movement and stillness to tell the story. Solidity and transparency form the texture of the canvas. Transparent oil paint, being alternated with thick oil paint are applied on a layered surface. With a putty knife a rough layer structure is yielded and accordingly removed. Dry and pure pigments are added by hand. These creations make the work experienced, like the scars of its history. The accumulations of layers reflect the stratification of our environment as well as our personality. Transparent oil paint flows in the drawing grooves of the cloth and creates an image without a clear picture. The frames often used in her work, symbolizes the borders of life of any kind. Because her work doesn't very easily reveal itself, the spectator is forced to discover the underlying values. As Christa says: "The real picture is behind the canvas". I invite you on this spiritual journey. while maintaining her own collection, which she exhibits on average four times a year, she also works in commission for individuals and businesses. one of christa's goals is her yearly dedication to a national or international charity. for paint a future she has travelled to africa and argentina, and more recently she has completed work on the project baubles parade for sos kinderdorpen.