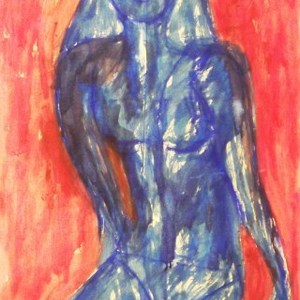 Daniela El Khabbaz Artist artworks for sale
Rated

4.5

/

5.0

by

25

clients as

the best artist
Artist: Daniela El Khabbaz
Live in: Turin, Piedmont, Italy
Artworks for sale: 34.00
Views:
4408

Favorite:
196

Show all Daniela El Khabbaz Artworks
on Saatchi Art

Daniela El Khabbaz Artist Bio:
The creative process starts at an early age when the artist's first visions, her artistic future and the use of a psychical language are being linked to perception of reality. The first artistic manifestation comes in the form of the interaction with her naked dolls, organised in order of their height and put into a dresser with three large drawers. She watched the amazed viewers coming to the room and opening the drawers, one after another. Naked dolls organized in order of height were a source of awe for an unsuspecting viewer. The choice of expressive performance was being 'interrupted' almost immediately by interaction of writings about the conflicts of adolescence. The diaries would have been destroyed in adults' age. The primary path where the artist resumes its creative verve through the use of colour and matter would have been the high school. The academy Albertina in Turin would have been the place of meeting with teachers and colleagues. As an independent artist she did not want to follow any predetermined channel which led to opening her own gallery / studio in Via Rossini in Turin. Not mingling or even aiming to demonstrate the necessity of her soul and inspiration this was rather a business venture. Living far away from the mechanism she was able to execute paintings, sculptures related to her conception of life and interpersonal relationships that followed. Painting on the edge of psychoanalysis illustrates the artist through the colour sensation of sweetness and at the same time the pain of life. Sourcing her own dramas that the society stored for her, the artist casts vivid emotions and catharsis even to the profane viewers. The perception of reality is managed through the use of every-day materials, interpreting the objectivity and assigning them with symbolic value. The fertile imagination of the artist never lets her to be satisfied with her work, as a Shakespearean tragedy, in her art is capable of doing both good and evil.