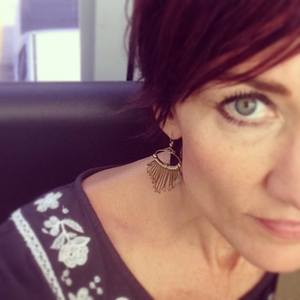 Danielle Crilly Artist artworks for sale
Rated

4.5

/

5.0

by

64

clients as

the best artist
Artist: Danielle Crilly
Live in: Wheaton, IL, United States
Artworks for sale: 2.00
Views:
3067

Favorite:
145

Show all Danielle Crilly Artworks
on Saatchi Art

Danielle Crilly Artist Bio:
danielle crilly's work is an exploration of beauty found in the lonely, thin places of both solid and soulish landscapes. She is a farmer's daughter, familiar with the vast flat ribboned fields, expansive skies and limitless horizons of central Illinois. The seasons of rural life: fresh green sprouts and brittle decay, wide open spaces and silent isolation, both echoed and informed her inner struggle to reconcile the tension between joy and sorrow. The paradoxical rhythms of Danielle's history fuel a desire to unearth and reclaim the hidden grace that shines in dark hours and unexpected places. Her dreamlike images evoke a strangely familiar feeling, giving voice to the haunting presence of longing for beauty in a fallen world. "Everything is beautiful in its time." After leaving a career in publishing, Danielle began studying art and exploring the expression of images that linger along the edges of consciousness, soul memories, through painting. She works with fast-drying acrylics so that multiple layers of paint can be applied quickly, allowing the work to develop in its early stages with freedom and spontaneity. Danielle Crilly paints in her Wheaton, Illinois studio and currently exhibits her work throughout the Chicago area, including Re-invent Gallery in Lake Forest.