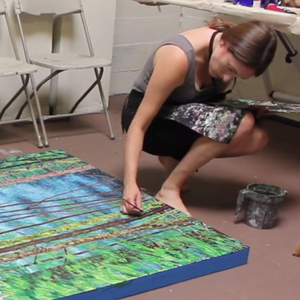 Kendra Larson Artist artworks for sale
Rated

4.5

/

5.0

by

53

clients as

the best artist
Artist: Kendra Larson
Live in: Portland, OR, United States
Artworks for sale: 57.00
Views:
2520

Favorite:
112

Show all Kendra Larson Artworks
on Saatchi Art

Kendra Larson Artist Bio:
Bio: Larson is originally from Salem, OR. Her previous exhibitions include the Nash Gallery (Minneapolis, MN), Boise State University (Boise, ID), Overture Center for the Arts (Madison, WI), Sheppard Contemporary Gallery (Reno, NV), and the ,"Aratoi - Wairarapa Museum (Masteron, New Zealand). She is a past Signal Fire , Caldera, and New Pacific Studios (New Zealand) resident. Artist statement: "In my practice I am trying to know the unknowable. My subject, the NW landscape, is the means by which I explore this type of melancholy. Landscape painting has historically helped clarify each generation's understanding of Place. My work is a collection of paintings that function within this tradition. My generation, marked by the uncertainty, nostalgia, and Romanticism brought on by economic instability, takes comfort in the nostalgic view of nature as an unchanging spiritual force. The playful and emotional quality of this work ultimately helps to shed new light on what we call landscape painting. The landscape is a particularly challenging subject: each piece can be full of personality, like portraiture, and abundant with unforeseen opportunity. The subtle poetry, complicated color, unconventional materials, and unique compositions make the process of creating exciting. In my art practice, I find that chaos, awe and fear are revealed in ways I could not plan when I begin a piece. "