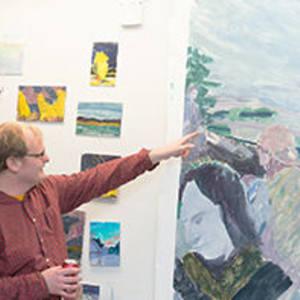 Kevin Stuart Artist artworks for sale
Rated

4.5

/

5.0

by

49

clients as

the best artist
Artist: Kevin Stuart
Live in: Chicago, IL, United States
Artworks for sale: 21.00
Views:
4374

Favorite:
177

Show all Kevin Stuart Artworks
on Saatchi Art

Kevin Stuart Artist Bio:
Kevin Stuarts a figurative painter born in the Chciago suburbs and is now living and working in Chicago IL Artist Statement: Life is dynamic, life is poetic, life is often a swing from paralyzing beauty to debilitating pain. I often find myself in public space feeling things and noticing things about people. Each thing I notice and see is the beginning of a mystery; a realization of my own point of view and someone else's at the same moment. The face we walk around with in public when we feel invisible is a face that puts on a show for no one. It forms the basis of how we read someone's emotional responses and carries traces of its back story. It is one of the most honest faces we make. It is a face that is about to change. When I'm painting I feel as if I'm thinking about these faces and people; their potential, how they look when they laugh or smile. On the train as I sketch these people I am always amazed when the face in front of me changes, catches a glimpse of something, smiles after receiving a text from someone who can't see them smile back, thumbs through a phone bored, or stoically works through some inner turmoil. I feel as if I paint the most impossible thing to understand: someone else. I try to show a life outside the painting; I try to make the figures more than figures in space but people with lives, beautiful poetic lives. The whole project runs contrary to the social contract of public space: To view the person in front of you as a figure in space. This social contract is impossibility for empathetic beings. The scenes created often don't quite add up because I don't want them to, I want them to leave someone wondering what that person is doing or what that person's life is like, because the people around us are exciting and I still don't know quite what it is they do, where they're from, how they are or who they are. To be constantly confronted with the potentialities of people is an experience both exhilarating and terrifying, joyous and sorrowful, it is a reflection of life itself, never static enough to be defined.