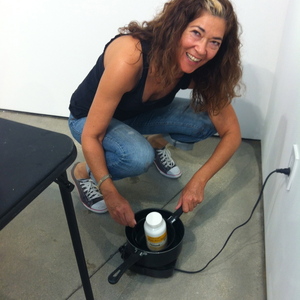 missy pierce Artist artworks for sale
Rated

4.5

/

5.0

by

80

clients as

the best artist
Artist: missy pierce
Live in: boca raton, FL, United States
Artworks for sale: 10.00
Views:
1897

Favorite:
151

Show all missy pierce Artworks
on Saatchi Art

missy pierce Artist Bio:
My painting style is heavily influenced by the concept of containment. It is an exploration into the process of choosing which image one can safely project in the environment within which she or he is presently interacting. As a mother, an attorney and a professional artist, my artwork is about the converse of projection; it is about the images I choose to conceal or keep tightly "contained" because of the incompatible roles I am forced to play at any given time. Painting for me is the freeing or "release" of that suppressed image. While creating, I work more from intuition than any sense of direction or planning as I apply multiple layers of paint. Often, the meaning of a painting overtakes me after my work is well on its way. Similarly, I revel in the idea of viewers getting drawn into my art and extracting their own message and meaning from the underlying layers as part of their own personal experience.