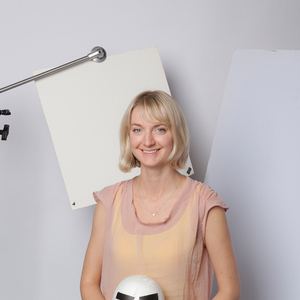 Sonia McNally Artist artworks for sale
Rated

4.5

/

5.0

by

33

clients as

the best artist
Artist: Sonia McNally
Live in: Richmond, CA, United States
Artworks for sale: 6.00
Views:
2336

Favorite:
181

Show all Sonia McNally Artworks
on Saatchi Art

Sonia McNally Artist Bio:
My work is driven by observing my environment piece by piece and reflecting commonalities inherent between even the most disparate of associations. I create landscapes that recognize moments of naturally occurring patterns that are symmetrical and repetitive, yet incongruous. By emphasizing and contrasting imperfections in repeated imitations of shape and structure, my paintings are transformed into a playful and hypnotic whole. These imitations allow me to develop an intricate configuration using the structural similarities found in nature as well as imprints we leave behind. I create abstract interpretations with faintly recognizable traits that evoke familiar connections even though the subject inspiration may not be apparent. Ultimately, I explore the multifaceted aspects of imagery with webs, layers and depth. I consider myself a postmodern landscape painter. My organic subject matter contains units that are micro landscapes in of themselves. I break down my subjects through a methodical approach to find a design within each distinct work. I choose to emphasize certain aspects such as negative space, lines with similar direction and evolution of pattern. This evolution of patterns builds fluid structural maps within my work. Specifically, my paintings evolve within themselves through developed color schemes that employ contrasting relationships, modified tetrad schemes, and other formulas on the color wheel. I use these techniques to formulate relationships between the classical and modern palette. I also experiment with pure and contaminated color in each layer forcing involuntary movement by stimulating the rods and cones of the viewer's eye. As a painter, I work environmentally conscious and follow healthy practices. I practice archival techniques such as eliminating the use of destructive mineral spirits and strive to create works that are archivally sound. I am fascinated with how historical paintings have and have not endured time and the elements.